(Initial writing Jan 2019) Continuation from: Evolution of my Home server/lab – Part 2
I came across a fantastic subreddit last year or a couple years ago now? /r/homelab, which led me to /r/homelabsales. And boy that was a mistake on my wallet over time, but I loved every minute of it.
was able to locally purchase and pick up my first ever rack-mountable server/host: Lenovo/IBM x3650 M2. the timing was great because it was my present to myself for my birthday that week.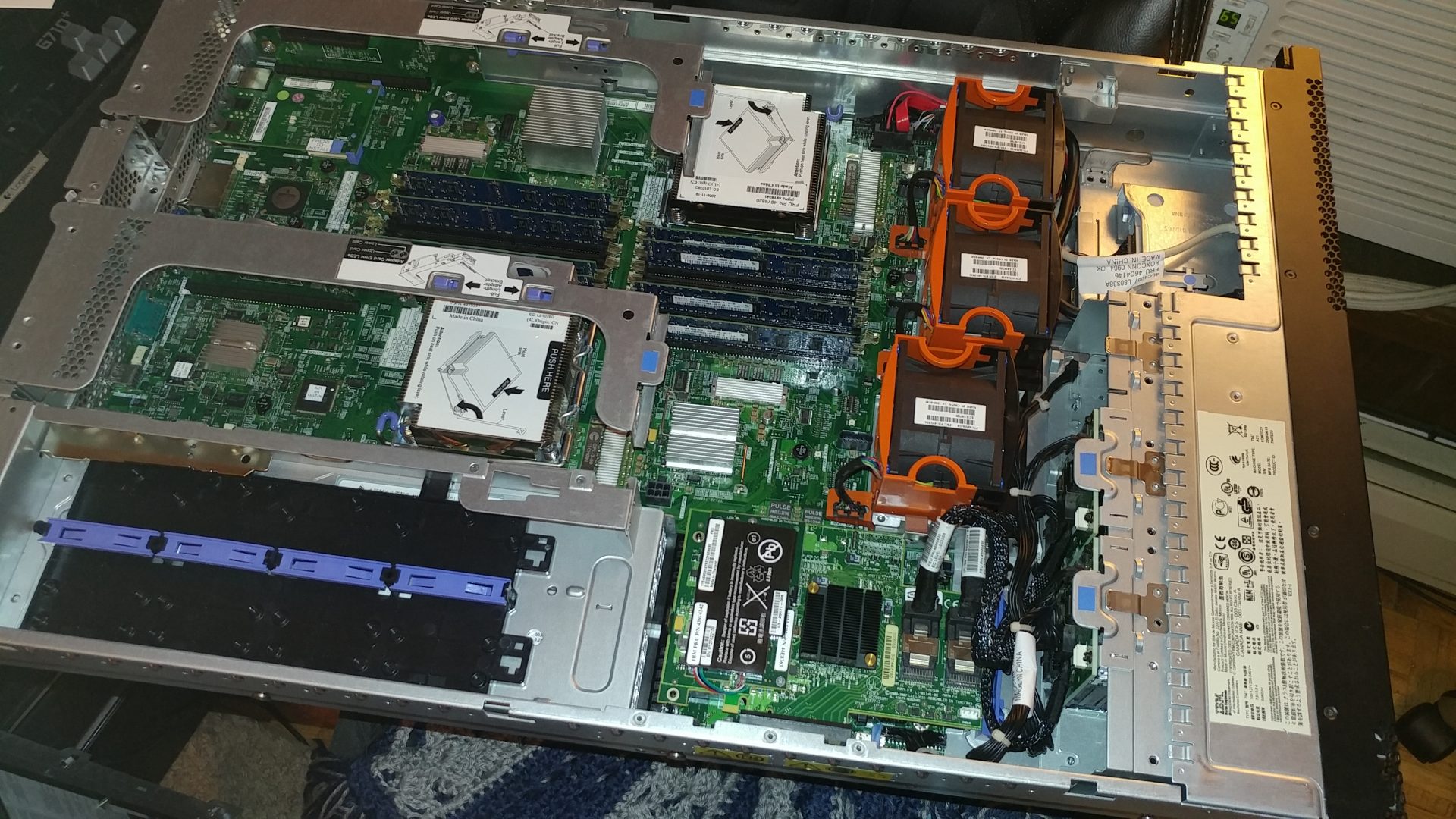 Initially i had only a single 73GB drive that he provided with the system, couldnt really do much with it. I was able to get "in" with the head of IT to purchase 4x 300GB SAS drives for me to get a start on learning about serverland.
once i got those a few days later, I immediately RAID5'd them. i also had a few more drives on the way thanks again to /r/homelabsales.
over time i was able to migrate all my VMs over to this new host, and on top of that I needed to stop killing the whole network when rebooting the hypervisor on the whitebox. cause that became SUPER annoying
I got the hang of pfSense enough to install on dedicated system, hoooray for work e-trash again! nabbed 2x hp towers, one to be set up later on. Bought a 4-port GbE NIC for the "new" pfSense build. Changed the dual port in the whitebox to be utilized as an active/active bond and set as the main NIC for VM data, it helped prevent complete disconnection issues (I need to redo some ethernet cabling, really)
Some catch-up (written Feb '21)
Gear acquired from E-trash bins in 2020:
PfSense build is now a small Acer microtower with an i5-2400 to benefit low power cost and AES crypto for use with future pfSense versions.
A couple PCIe WLAN+BT cards, added one to my main gaming rig.
Scored multiple laptops, new "daily driver" Dell Latitude E7450 w/ i5-5300U vPro 16GB DDR3, added a 250GB SSD. MUCH improvement compared to the 2-in-1 Asus transformer T100-TAM with a little Atom CPU.

Also an HP Probook 430 G1 running MacOS BigSur on OpenCore 0.6.5
need parts, but an HP Probook 430 G3(I think? It's not nearby at the moment) with a 6th gen i3 or i5

Cisco gear:

Cisco 2821 Integrated Services Router
Catalyst 2950 Series 24p 10/100 Switch
Catalyst 3550 Series 24p 10/100 +2 GBIC Switch
4402 Wireless LAN Controller
A case of multiple AIRONET a/b/g 2.4GHz access points.
A handful of IP Phones; 7911 & 7942g models
5505(?) ASA (Adaptive Security Appliance)
Catalyst 3560 v2 Series PoE-24 Switch – I was so excited for this one to power my IP Cameras, but RIP, something mustve shorted prior to going in the bin, showing a blend of amber/green on all nearly LEDs, no connections working.

HP Rack Gear:

DL380 G6 – 72GB RAM – Dual Xeon E5640's
STORAGEWORKS MSA70 ARRAY — this will be a while before i can attempt to use this, but it will make for a great DAS.

A couple old 16 Analog + 16 Digital channel NVRs (Bosch and Honeywell), may use these to consolidate before sending feeds to Shinobi?
A handful of Dell Wyse Thin clients:

1 as Kodi Media Center for Plex
1 running 3cx pbx server for VOIP services for the Cisco Phones
1 as Home Assistant running HassOS
A couple more untouched.

A couple Rack Cable Management arms.
USB 3.0 Displaylink Dual Display Docking Station
A couple small UPS's
HP KVM ( I wish it was IP however)
A couple PDUs
Other:
I just acquired xFi gigabit services and gateway, pending modem replacement to actually benefit from the speeds.